The death toll from the weeklong unrest triggered by the jailing of South Africa's former President Jacob Zuma has seen a sharp rise across the country, with the government having increased the number of security forces to quell the violence.
Government officials in Pretoria announced on Thursday that the number of fatalities in South Africa's unrest had risen to 117 as the country called up its army reserves to contain the chaotic situation across the country.
The figure showed a sizable increase from the toll of 72 announced the previous day.
The acting minister in the presidency, Khumbudzo Ntshavheni, told a news conference that Johannesburg, South Africa's economic capital, was now "relatively calm" while the southeastern province of KwaZulu-Natal — Zuma's hometown and the epicenter of the violence — "remains volatile."
The government said on Wednesday that it would call out around 25,000 troops to tackle the emergency as the unrest entered its sixth day.
"All reserve members are to report for duty at first light tomorrow morning 15 July 2021 at their respective units," army chief Lieutenant General Lawrence Mbatha said in a statement.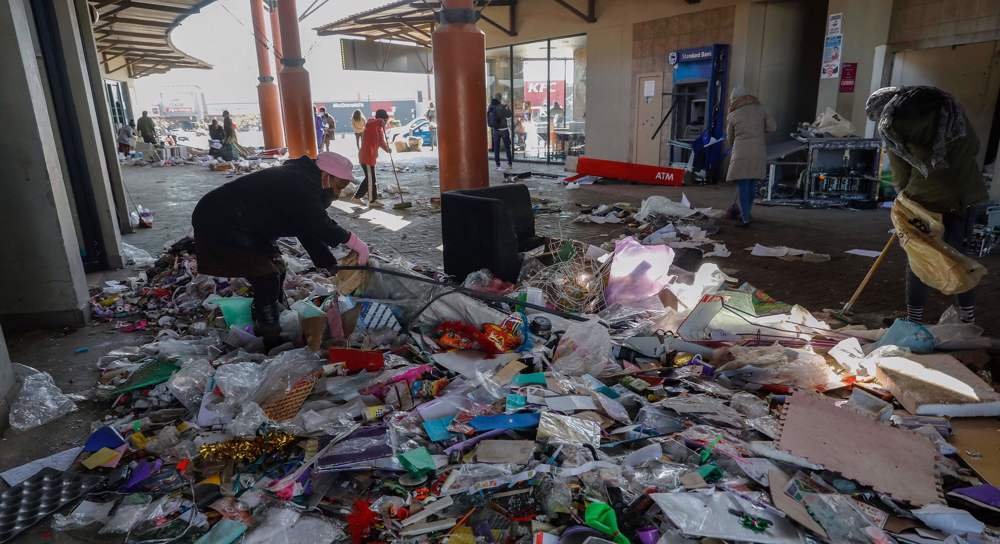 South Africa's Defense Minister Nosiviwe Mapisa-Nqakula told parliament that she had submitted a request for "plus or minus" 25,000 troops to quell the violence and looting.
The unrest was sparked by the jailing of Zuma, but the situation has evolved into an outpouring of anger over persistent poverty and inequality in South Africa, 27 years after the end of apartheid, with the economic effects of restrictions imposed over the coronavirus pandemic having exacerbated the situation.
On June 29, Zuma was sentenced to 15 months in jail for not appearing before a commission looking into graft scandals during his presidency.
The violence worsened after Zuma started serving the jail term on Thursday after handing himself in to authorities as a deadline for surrender loomed.
South Africa's Constitutional Court was on Monday asked by Zuma's lawyers to review its decision on jailing the 79-year-old former president for contempt of court. The court has reserved its judgment for a later but unspecified date.
Zuma was removed from office by his ruling African National Congress (ANC) in February 2018, in a move orchestrated by the allies of his successor, Cyril Ramaphosa.
He was forced to resign when ANC lawmakers turned against him over accusations of having links to the wealthy India-born Gupta family, who are alleged to have influenced his government. Zuma and the Guptas, however, deny the allegations.
Zuma is a former anti-apartheid activist who spent 10 years in the notorious Robben Island jail off Cape Town. The former president is popular among many poor South Africans, especially the grassroots members of the ANC, who see him as a defender of the disadvantaged.
source : presstv