Hammouda Sabbagh, Speaker of the People's Council of Syria, affirmed that "The two friendly countries of Syria and Iran will have victory as their ally, thanks to the belief of their people in their rights."
Sabbagh emphasized "the strength of bilateral ties between Iran and Syria in light of their continued coordination and collaboration, as well as their solid, rooted and always renewed relationship."
Sabbagh made the remarks at a meeting welcoming Iran's Islamic Consultative Assembly President, Muhammad Baqer Qalibaf, upon his arrival at Damascus International Airport.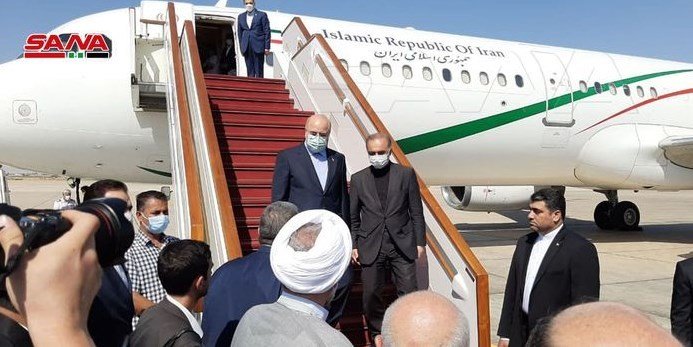 Sabbagh enthusiastically welcomed Qalibaf with his statement, "As we have always been together during peace, so are we together in the days of wars and sieges enforced on our countries."
Hammouda also expressed his hope to strengthen relations between "the People's Assembly and the Islamic Consultative Assembly through the exchange of experiences and parliamentary delegations within the framework of coordination and joint cooperation."
Qalibaf expressed his joy at receiving the official invitation to visit Syria, noting that "The visit comes at a time when the terrorists were defeated despite all the support they received from America, in light of the start of the reconstruction phase in Syria."
Qalibaf congratulated the Syrian government and people on their success in the presidential elections, which "embodied the Syrian people's love for their homeland and their interest in security and stability in their country." He noted that "The resistance axis is also happy with its success, because it sees Syria as a front line for the resistance front and considers the election's success as theirs, while its enemies see it a miserable failure for them."
He clarified that "The talks that will take place in Syria will help to strengthen Iranian support," expressing his desire to approve the comprehensive agreement for cooperation between the two countries, and to provide greater opportunities for industrial, economic, and cultural cooperation between the public and private sectors in both countries.
During his meeting in Damascus with members of the Iranian embassy in Syria, Qalibaf declared, "We are the heirs of the great struggle of numerous people in the Iranian government, and this reputation has had remaining effects today within the security and military fields of Islamic governance."
According to him, the military, security, political, and social developments in the West Asian region "clearly indicate that wars are heading towards low-cost wars with greater effects, and from here it can be said that the level of wars have changed and into asymmetric conflict in the economic, social, and cultural fields. This opens the field ahead to influence through the discourse of the Islamic Revolution."
On July 8, 2020, Syrian Defense Minister Ali Ayoub and Iranian Army Chief of Staff Mohammad Bagheri signed a comprehensive agreement on military cooperation.
Qalibaf arrived in Damascus at the head of a delegation comprising a number of members of the Islamic Consultative Assembly on a multi-day visit, in acceptance of an official invitation from the People's Assembly.
Also attending the reception was the Deputy Speaker of the People's Assembly, Akram Ajlani, members of the parliament's office, and the Iranian ambassador in Damascus.