Senior Energy Security Advisor at the US State Department Amos Hochstein announced that Washington is ready to resort to countermeasures if Russia halts its gas transit through Ukraine, noting that the measures will be considered jointly with Germany.
For her part, German Chancellor Angela Merkel said that "Ukraine should remain the country through which Russian gas passes after 2024, when the agreement between the two sides expires."
During talks on the Nord Stream 2 gas pipeline with Polish Prime Minister Mateusz Morawiecki, Merkel made it clear that "our concern now is for Ukraine to remain a country through which Russian gas passes."
In his turn, Morawiecki said during a joint press conference with Merkel that "ensuring the continuation of gas transit through Ukraine, despite the presence of the Nord Stream 2 pipeline, will reduce chances of blackmail from Russia."
He pointed out that guarantees of gas transportation through Ukrainian and Polish lands to Western Europe are the elements that will reduce the possibility of being subjected to price-related blackmail by Russia, but most importantly to political blackmail.
Ukraine and Poland feel threatened by the project
Ukraine and Poland announced last July that the natural gas pipeline project Nord Stream 2 threatens Ukraine and the entirety of central Europe, at "political, military and energy-related" levels. This came after a declaration by Washington and Berlin that they have reached an agreement on the controversial project, which connects Germany with Russia.
This was preceded by an announcement by the United States that it had reached an agreement with Germany on the Nord Stream 2 pipeline. The agreement foresees possible sanctions against Russia and seeks to extend gas transit operations through Ukraine.
Nord Stream 2 is completed
The Russian company Gazprom announced yesterday it has completed the construction of the entire North Stream 2 gas pipeline, with a capacity of 55 billion cubic meters per year. The pipeline extends from the Russian coast across the Baltic Sea to Germany. This project is being implemented by Nord Stream 2 AG with the sole shareholder – the Russian Gazprom.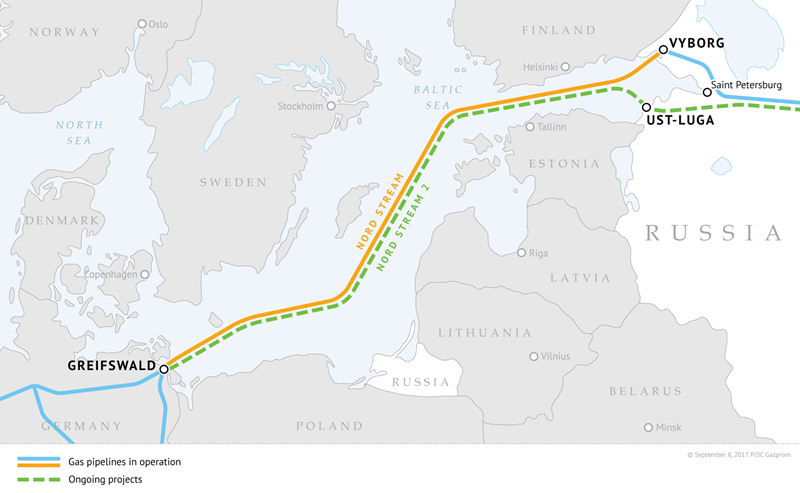 The operator of the Nord Stream 2 project, Nord Stream 2 AG, announced, last Monday, that the specialists of the Russian vessel Fortuna had welded the last tube of the second series of the ord Stream 2 gas pipeline.
Several European partners, namely Royal Dutch Shell, OMV, ENGIE, Uniper, and Wintershell, are financing 50% of the project, or about 950 million euros each.
This project is strongly opposed by the United States that is trying to promote its liquefied natural gas in the European Union.
US sanctions on Nord Stream 2
Washington imposed sanctions on the Nord Stream 2 project last December and demanded that the joint-stock companies immediately halt building the pipeline. The Swiss company Allseas almost immediately announced the suspension of its work. Currently, the United States is discussing the issue of expanding sanctions against the project.