Iranian Foreign Minister Hossein Amir-Abdollahian and his Russian counterpart Sergey Lavrov met on Wednesday in Moscow.
The Islamic Republic of Iran's Minister of Foreign Affairs, Hossein Amir-Abdollahian, had left Tehran for Moscow on Tuesday night and arrived in Moscow on Wednesday to meet with his Russian counterpart Sergey Lavrov; the two officials met today.
In the meeting, Lavrov stated: "Today, we will discuss issues such as the unconditional revival of the 2015 Iran Nuclear Deal knownas the Joint Comprehensive Plan of Action (JCPOA) and the crisis situation in the region."
Amir-Abdollahian, for his part, said: "I am glad that the relations between the two countries are on the right track. We focus on the interests of two nations and two countries. During the Russian President Vladimir Putin's recent visit to Tehran, important and high-level talks were held. Today, we have the opportunity to discuss the implementation of the agreements between the heads of the two countries."
"Of course, regarding the crisis in Ukraine, some European officials have proposed ideas, and we will discuss this matter as well," he added.
On Tuesday night before his departure to Moscow, Iranian Foreign Minister Hossein Amir-Abdollahian had said that trying to solve the crisis in Ukraine is the primary purpose of his visit, based on the request made from the Islamic Republic of Iran; he had added that some Western parties want Tehran to play an active role in this regard.
As the Ministry of Foreign Affairs of Russia had announced in a tweet, the purpose of Amir-Abdollahian's trip to Russia was to discuss the JCPOA, which Amir-Abdollahian did not mention in his remarks at the airport upon departure.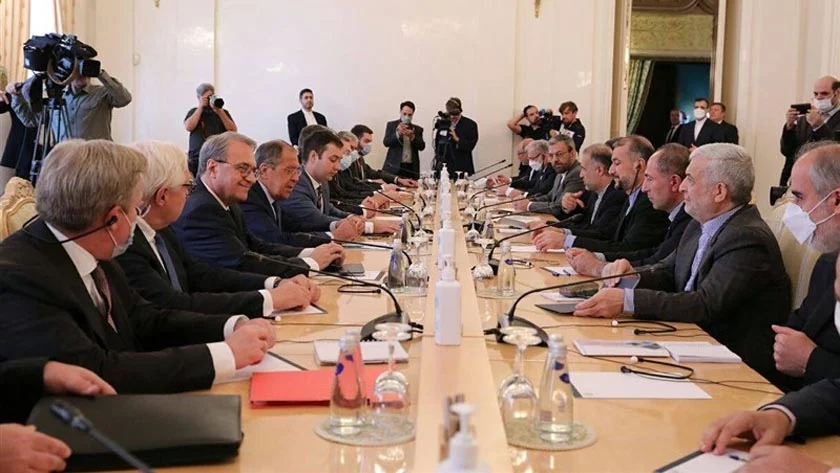 Source: Iran Press