Several countries condemn the ongoing Israeli occupation against Jenin, calling on the international community to assume its duty and put an end to the Israeli crimes.
The General Secretariat of the Arab League condemned the Israeli aggression launched by the Israeli occupation against the city of Jenin and its camp.
Earlier, the Palestinian Ministry of Health confirmed that the Israeli occupation forces killed nine Palestinians during its ongoing aggression on the city and camp of Jenin.
In a statement, the Arab League held the Israeli occupation fully responsible for the Israeli aggression and its crimes, condemning it as a war crime.
Iran
On his part, Iranian Foreign Ministry Spokesperson Nasser Kanaani condemned the Israeli aggression on Jenin, describing it as a reckless crime and stressing that the Israeli occupation will be defeated in this confrontation.
In a press conference, Kanaani pointed out that the continuous crimes of the occupation have proven once again that normalization with "Israel" will not stop the "Zionist killing machine" nor will it deter it or affect it.
Kanaani held the international community responsible for the Israeli aggression against the Palestinian people, calling on it to assume its responsibilities.
Jordan
Similarly, Jordanian Foreign Ministry Spokesperson Sinan Majali said Jordan strongly denounces the persistent Israeli escalation in the occupied Palestinian territories, particularly the recent aggression against Jenin.
In a statement, the Jordanian Ministry of Foreign urgently called on the international community to take swift action to stop Israeli attacks against occupied Palestinian territories.
Majali underlined the critical need to halt the continuous Israeli incursions into Palestinian cities and ensure their protection from repeated attacks.
The Jordanian Spokesperson indicated that the ongoing escalation constitutes a clear violation of international humanitarian law, warning against the grave consequences of the escalating situation, which will inevitably lead to further deterioration and heightened violence.
Egypt
Egypt also condemned the ongoing Israeli aggression against Jenin. The Egyptian Ministry of Foreign affirmed Egypt's complete rejection of the repeated Israeli attacks and incursions against Palestinian cities, resulting in innocent civilian casualties.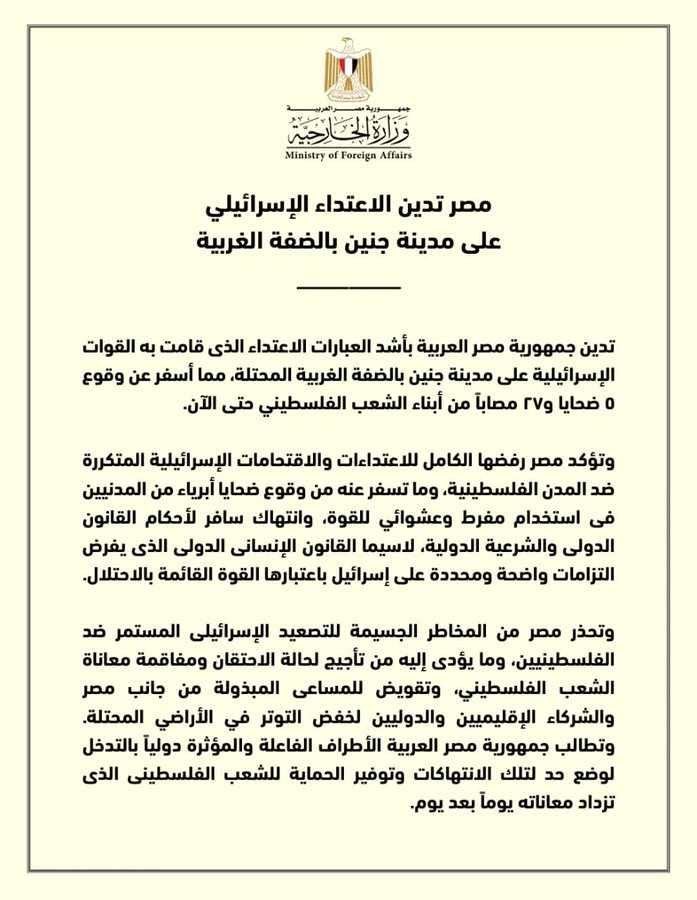 Yemen
A member of the political bureau of the Yemeni Ansar Allah movement, Fadel Abu Talib, considered that the Israeli occupation insists on immersing itself in a dangerous, uncalculated adventure through an aggressive operation targeting Jenin.
Abu Talib said the Israeli occupation must realize that it will fail in its aggression as it previously did and that the Palestinian resistance will be on the lookout for it, stressing that "Israel" will receive a powerful response that makes it regret this adventure.
Qatar
Qatar also strongly condemned the repeated aggression of the Israeli occupation against the city and camp of Jenin, deeming it a new episode in a series of continuous assaults by "Israel" and its horrific crimes against the defenseless Palestinian people.
Source: Almayadeen