Apple releases security patches to fix a vulnerability that hackers may be taking advantage of.
Apple is warning of a flaw that is allowing hackers to seize control of iPhones, iPads, and Mac computers and is urging users to install emergency software updates.
Patches were released Thursday and Wednesday by the tech titan to fix what it described as a vulnerability hackers already knew about and may be taking advantage of.
"Apple is aware of a report that this issue may have been actively exploited," the Silicon Valley-based company said.
Apple did not disclose whether it had information regarding the extent to which the issue has been exploited.
The technical description indicated that a hacker could use the flaw to take control of devices, accessing any of its data or capabilities.
Patches were released for iPhones, iPads, and Mac computers running on operating systems with the vulnerability.
Vulnerability to hacking
In recent months, Apple has shown that its operating systems are vulnerable to hacking. In mid-July, the tech giant developed a new way for activists, journalists, and other targets of state-sponsored espionage to protect themselves from spyware.
A Lockdown Mode being added to iPhones, iPads, and Mac computers is intended to counter threats from a thriving industry that provides sophisticated espionage tools to governments.
Concerns over digital espionage have been fueled by media outlets reporting that Pegasus spyware made by Israeli NSO Group was being used by governments to surveil opponents, activists, and journalists.
Pegasus infiltrates mobile phones to extract data or activate a camera or microphone to spy on their owners.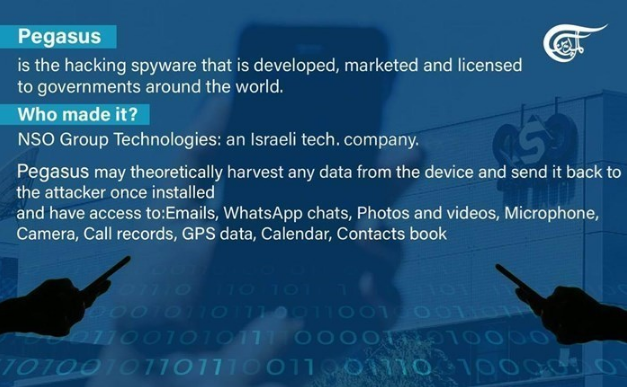 It is noteworthy that Apple is suing NSO Group in a US federal court, saying the Israeli firm's spyware was used to attack iPhone users worldwide.
Last year, the US blacklisted the firm, stating that it had sold software that had been used to "maliciously attack" government officials, journalists, businesses, activists, academics, and diplomatic personnel.
In an investigation by the New York Times, Pegasus was found to have been bought secretly by the Federal Bureau of Investigation (FBI), which completely violated the constitutional privacy rights of US Americans by conducting millions of searches on their data.
NSO Group has been embroiled in a seemingly never-ending spate of extremely prominent controversies. Revelations that it sells its powerful Pegasus spyware to authoritarian regimes, that its products have been used to spy on journalists, activists, politicians, and even potentially world leaders, and accusations that it played a role in Jamal Khashoggi's death have put it at the center of international criticism.
Hungary, India, Spain, Mexico, Morocco, and Saudi Arabia are some countries listed in a report last July that details how the spyware was used by governments to spy on journalists and critics.
Source: Almayadeen